Past couple of days have been absolute whirlwind! It is hard to let the fact sink that Bangladesh just defeated a team that boasted a gargantuan 444. That too after clawing back after an innocuous total of 239. Sure, purists will point out it was a different England team. The fact is England is a brand. They are the pioneers, and they have been in red hot form.

Among the accolades and attention are Mashrafe, Shabbir Rahman, Mahmudullah, a rehabilitated Taskin, and other team mates who chipped in their fair shares. But in my opinion, the ghostly figure who won the match in single-handed manner none other than Shakib Al Hasan.

Shakib by nature is an aloof person. I don't know him, but judging interviews, he is the sort of alpha male who likes to keep a low key profile. He lets his batting do the talking. And bowling. And even in not-so-rarer days: both.

Once he came into limelight for being no.1 all-rounder in all three format of the game. A rarity beyond Bradman's reach. Or even beyond the dreams of a wildest all-rounder. Even more recently he enjoyed the distinction for being the highest wicket-taker of a country in all three formats. When records break, they break quickly.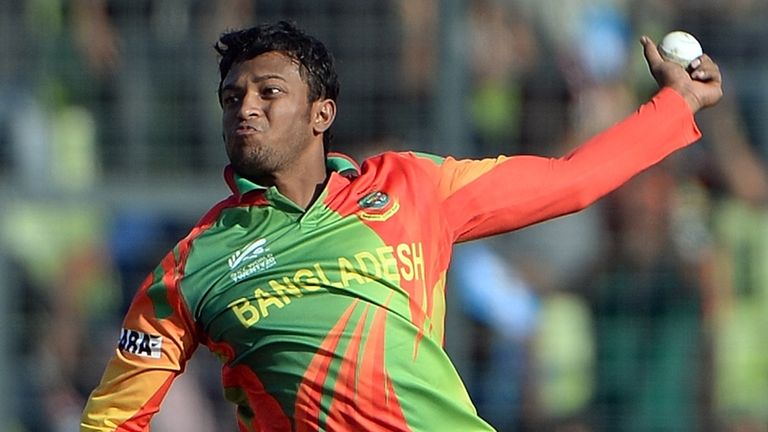 Shakib Al Hasan: when he comes to crease to bowl is when it lights the synaptic burst in my brain.
Sporting a decent, symmetrical, military haircut, when he comes to crease to bowl is when it lights the synaptic burst in my brain. For you know - I know- when he bowls anything is possible and a wicket can fall at any time. His craft is nuanced, highly evolved and it is the shavings of a millimeter in his spell that makes the difference between a batsman's life and death.

Recently a renowned literary figure passed away in my country. I went to a gathering that commemorated his memories, and it triggered in me the rather horrendous idea: what would happen if Shakib were to retire tomorrow? How will the world celebrate?

I was at Macy's to pay our bill with mom and as I was still basking from the win, I flirted with the idea. What would happen if Shakib were to suddenly retire? I asked Mom. Can you imagine how depressed and shocked the whole nation would be? Mom riposted, and quickly, that he has lot of fuel in him. But - I protested- it's cricket. Longevity is limited. Yes, I envision him fine-tuning his craft like Herath and playing till his lungs fall out, but for a brief second I composed a Facebook status in my mind:
"A monk lived in a hut. Once a thief broke in and stole all his belongings and all his clothes. Then the monk saliently remarked: 'If I could give you the moon, I would do so!' See, Shakib has stolen our hearts. No amount of penmanship or panegyric will evoke the legacy he will leave behind one day. Until that day, we just have to soak up the brilliant moments."
For it was only Shakib who would pile on the pressure after Mashrafe made the initial breakthrough. As the fall of wickets show: 1-12. 2-14, in a span of two runs he turned the tide. That was his only wicket. It was a superb ball to dismiss Duckett bowled for duck. As an aside, Duckett also holds a key record of scoring a double-hundred in a fifty-over match. His epic innings was blasted this year as well!

That was the defining moment of the recent match. It was the most subtle but insidious wicket of all. It was his singular strike. He wasn't the most economical or the run-getter in that match, but in my book, that crucial moment made all the difference between current result or a portal to an alternate universe where England won.

And- true to his nature, his work has been behind the shadows, subtle, electric and the same man who would take another running catch to dismiss Moeen could be the very man to take note in Chittagong from the spyglass of England lookout.