Mohammad Isam is one of the most prolific Bangladeshi sports journalists today. He has been writing about Bangladesh cricket for many years and currently works at EPSNCricInfo. BanglaCricket member Rinat Haque sat down with Mohammad Isam to get his thoughts and insights about Bangladesh cricket: its current state and future.
BanglaCricket:

Why is it that despite our performance in the past few years, BCB is unable to secure more matches for the national team?
Mohammad Isam: To be honest, BCB isn't the most diplomatic cricket board. They are not very strong in negotiating with other boards. Nowadays, you have to negotiate with other boards in order to arrange a bilateral series. With FTP (Future Tours Program) gone, there is no binding for the boards to schedule games with any team. To make yourself an attractive package, obviously you have to win first but at the same time, you have to sell that win. For example, when Bangladesh won against England last year, that was their opportunity to negotiate for an "A" team tour and also schedule another bilateral series with them. Unfortunately BCB was unable to grasp that opportunity. They did try to negotiate, but as I mentioned before, their negotiation skills are not the best. Back in the day, we had Saber Hossain Chowdhury and Ashraful Haque, who were the masters of negotiation. If you lookback, during 2000-2005, Bangladesh had a very busy fixture even with such an average team. It is because the management led by Saber Hossain Chowdhury and Ashraful Haque were extremely intelligent and successful in negotiating with other boards. Unfortunately, their success were not repeated by the individuals or management team that came afterwards.
BC:

So you don't think it has anything to do with financial constraints for us?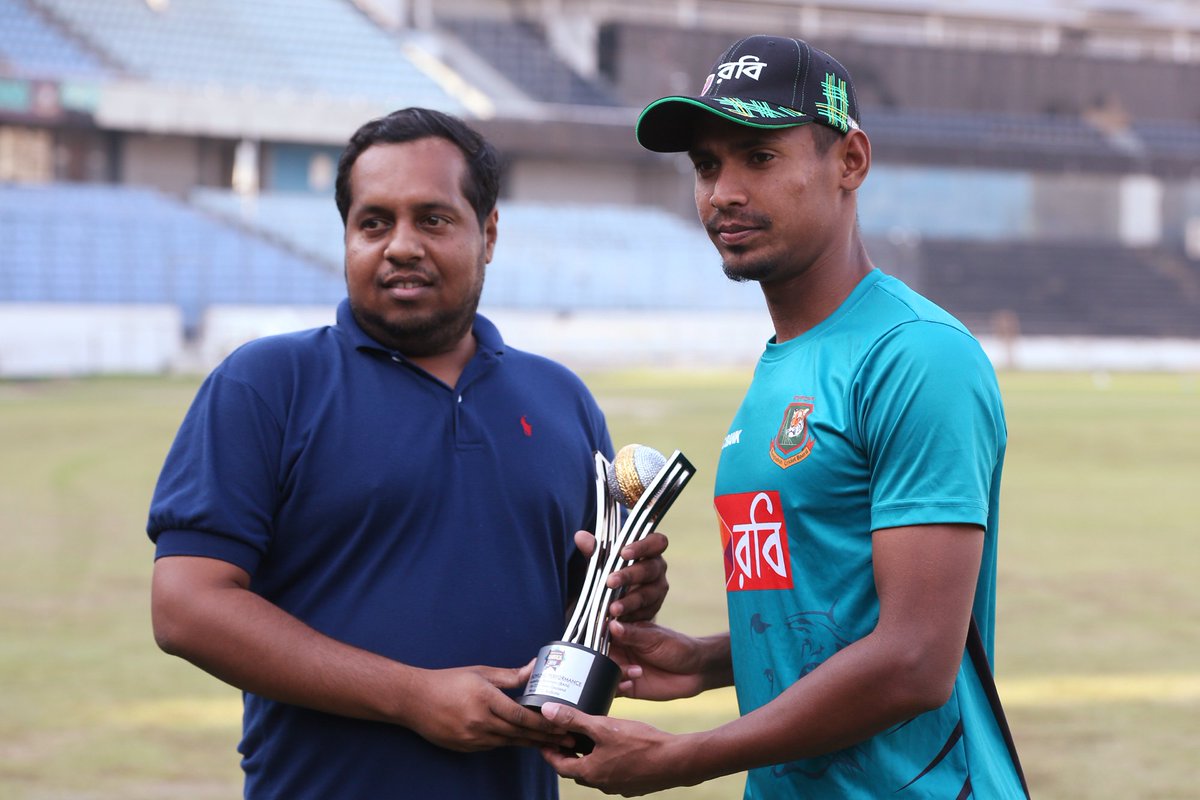 Mohammad Isam presenting Best T20 Bowling Performance Award to Mustafizur Rahman (2016)
MI: BCB is the third richest board in the world right now after BCCI and ECB . In terms of financial strength and in terms internal strength, BCB is as strong if not stronger then ECB. BCB has more than enough managers which I find excessive to run a cricket board. So I don't think it's a financial issue. According to BCB, other than India, England and Australia, any other teams touring Bangladesh is a financially loss tour for them. They tell us that for series against teams like New Zealand comes to Bangladesh, they cant even sell the tv rights in New Zealand because of the lack of interest there. Sometimes, even the radio isn't interested. However, its also true that, with the financial strength BCB has, they can afford to host five loss making series every year and still be profitable!
BC:

Why do you think BCB is finding it tough to find an established number 3 in international level when we have so many top order batsmen performing well in domestic level?
MI: I am assuming you are referring to the ODI team because we have Mominul Haque for the test team who still has a phenomenal record. He was dropped because the coach was losing confidence in his ability to comeback which is rather unfortunate for Mominul but I still believe he is our no. 3 batsman for test cricket. Regarding our ODI team, I was actually going through the records for the number 3 batsmen throughout the history of Bangladesh cricket and after Aftab Ahmed and Habibul Bashar. Shabbir is still the best no.3 batsman statistically! That tells you how bad the rest were!
To answer your question directly, BCB does not look for a no.3 any specific position. BCB designates that role to the coaching staff who will basically look for the player who has the elements they want in no.3. When they brought in Aftab Ahmed, his purpose was the accelerate because we had someone like Javed Omar Belim opening and the team needed someone to utilize the first 15 overs. Aftab Ahmed was very good at it and now they have Shabbir Ahmed for that role. Shabbir Ahmed is an aggressive option and that's what the coaching staff wants up in the order. In my opinion, an ideal no.3 is someone like Tamim Iqbal. However, you cannot have two Tamim Iqbals in the side! Mahmudullah Riyad was supposed to be the best no.3 batsman but I don't know why he doesn't bat up the order. I believe they will try slotting in Mosaddek for no.3 which I think is a great idea if the coach and captain thinks he can tackle pace.
In general, I think the batting order should be streamlined. No.3 should never be another opener but rather a proper top order batsman. We need to understand that opening and no.3 are not the same thing and their roles are very much different.
BC:

D

on't you think having both Soumya and Shabbir up in the order is very risky business considering how they approach the game?
MI: No I don't. We are talking about an age where you have to score over 300 on any given day. It is more risky to have a batsmen who cannot bat at a Strike rate of 100 at the top order. That is why players like Soumya and Shabbir are there.
BC:

Some of our domestic performers (mostly seniors) are being constantly overlooked. What do you think of this strategy to discard seniors and concentrate on young prospects by the selection panel?
MI: Its been happening for the past…. 20 years! At the start, it was a mandate to have a pool of young players in the national squad. When we got our test status, BCB convinced everyone that we (Bangladesh) have generations worth of cricketers and we will never run out of fresh talent. BCB also thought believed having young players are better for attracting crowds. That's why you had players like Aminul Islam, Akram Khan and others of that pool, slowly replaced by players that were 12-13 years younger than them. What this did was during the middle period, there were a lot of cricketers like Sanwar Hossain, Sazzadul Alam Shipon that basically went underutilized. This tactic worked well for the generation of Shakib, Tamim but for others generations this didn't really work well enough.
The reason why domestic performers are ignored is because when a foreign coach comes in, he is told that the domestic cricket is irrelevant. It's the 30 or 40 men camp that takes places before a series that counts! This theory was relevant 10 years ago but now this idea is obsolete in my opinion. I think, these camps are becoming less important and the domestic performance is crucial now. If you look at the stats for our domestic leagues in the last 4-5 years, you will barely see any foreign players in the top 5 of a batting or bowling ranking. This year you will see no foreign players topping these rankings. There used to be a time when foreign players would top the charts every time they played. Whether its Dhaka Premier League or National Cricket League, it was the foreign players that would dominate. However, that trend has completely stopped now. This tell us that our local players are performing better and more consistently.
For the seniors, the old technique is the culprit here. The selection process still goes by the "Ignore seniors and pick younger players" strategy because they are considered slow and unfit. Again, this was true before when seniors outside of the national side would have poor fitness. But now, almost all the senior players work on maintaining their fitness even when they are not part of the national side. They are actively training to remain fit and you see that reflecting in their dominance in the domestic leagues.
Also, BCB or the selection board always prefers investing on young players. When someone like Sohag Gazi gets caught for illegal action, BCB is less kin on his remedial work because they believe he is too old to make a comeback. If he was caught when he was 19 like Sanjit Saha, they would be more interested because of the potential longevity of his career. But I don't entirely agree with this because even someone like Sohag Gazi fixed his action and doing quite well, so you simply cannot rule out players based on their age. Unfortunately, I don't think this notion will go away anytime soon. Maybe if there is a time when players like RIyad, Tamim, Shakib get dropped which I think they will, and then they work hard to takeback their position in the squad from their successors, that mentality will change. It will show the selectors that players can make a comeback late in their careers.
BC:

Our spin attack was once our main weapon against any opposition. Right now, it seems like our spin attack is almost non existent. Why do you think this happening and why is BCB so reluctant to invest on our spinners?
MI: BCB Has never really invested in getting more or better spinners. Whatever spin bowler we got, came naturally. Secondly, since the English tour, they played in away conditions. They played in New Zealand where they did not perform which is understandable. However, its true that they did not perform up to the mark in India and Sri Lanka which has more assistance for spinners. From my understanding, this management is not really interested in developing or nurturing a specialist spinner. They have Shakib and Miraz right now and they are more then happy with that. Others like Sanjamul are basically backups and it's also a tradition to keep a SLA in the squad. They are trying to invest in getting a leg spinner and it was evident in the last spin hunt. I remember asking one of the officials during the press meet whether they will take any steps to ensure that leg spinners get a lot of games and overs. Because, our cricket culture is sort of anti leg spinner. There isn't one captain or one team that would want a leggie in the side. SLA or conventional off spinners are the safer option to go for these teams and they still haven't come out of that tradition. Fortunately, the officials during the press conference informed us that they will make it mandatory to play a leg spinner in the age level domestic cricket which is run by BCB rather than any franchises. They way to develop more effective leg spinners and off spinners is by allowing these young cricketers to play more 2 or 3 day matches rather then ODIs. You give them lots of overs and space to experiment, improve and become consistent.
BC:

I understand why we are struggling to find a good leg spinner. But what happened to the one we did find? I am talking about Jubair Hossain of course!
MI: Jubair Hossain is a rather frustrating case to be honest. I would say it's the sudden rise and fame that got the better of him. He was a small town boy, came to Dhaka after finishing his age level games and asked to bowl in the nets. All of a sudden, the coach decided to take him to West Indies without any First Class experience. This sudden rise and debate around him ruined his focus. You could also say that the pressure also got to him. He was ignored in domestic cricket because of various reasons. First, he is a leg spinner, second he was coaches favorite which unfortunately is an issue for local coaches and thirdly, he started gaining weight and losing fitness. You simply cannot gain weight at this level. What he needs is some guidance and lots of match experience at the domestic level. For someone like Jubair who is still very young, you have to give him games and tell him to not worry about conceding runs. You have to be patient to nurture leg spinners which unfortunately the local coaches do not have at the moment!
BC:

Do you think the "5 pillars" have reached their peak and it will be a steady decline from now on? How much can we realistically and honestly expect out of them in WC 2019?
MI: Well, they were very young when they started their career. The fact that they have been playing constantly since their debut that's why we get this impression that this is their peak period. I personally think their peak or prime time is still 2 years away. Just because Shakib's bowling is going through a rough patch, or just because Mahmudullah has stopped bowling does not mean they are going past their prime. Mashrafe is slightly older then the rest 4 and I think it will be a monumental challenge for him to play the next world cup. But the challenge will be to be physically fit rather then performance because he is still one of the best performing bowlers in the side. If he is fit, then I don't think there will be any question of him playing the 2019 world cup. Tamim, Mushy are going towards that peak period and they will continue to improve until and beyond the world cup. Riyad is still improving every day so he could be even further away from his peak.
BC:

So in relation to the last question, What do you think is a realistic retirement timeline for Mashrafe?
MI: I speculate that his retirement will come right after the 2019 world cup. I doubt that the champions trophy was his last major tournament. Unless BCB forces him to retire, which will be very unwise and unfair if it happens, I don't think Mashrafe will retire before the world cup. Fans shouldn't think Mashrafe is holding onto his position by any means. For Mashrafe, any game he played after 2011 is a bonus game to his career. The team needs him more then he needs the team at this point but Mashrafe being very intelligent, can sense politics or noise behind him. So if he senses that the board is not willing to continue with him, he could retire as early as tomorrow. He could retire after the direct qualification deadline in September because still, he has gone way beyond the expectations. If he does retire, I don't think it will be an issue finding his replacement, but whoever takes over his position will be faced with a mountain load of expectation and pressure. Also whoever the future captain will have a hard time gaining trust and respect in the dressing room compared to Mashrafe. On a side note, Mashrafe did shock a few people when he retired from T20 but someone was going to ask him to step aside at the end of that second game against Sri Lanka and he retired right before anyone could say anything.
BC:

We have seem the rise of active and professional journalists like you in our cricket arena. However, we are yet to have our own sports channels despite having good interest from corporations to sponsor our teams fixtures both home and away. We are also stuck with two commentators for the past decade despite having a lot of experts in the country. Why do you think we are behind in these two areas?
Well good news is, Gazi Tv is preparing to launch a sports channel. They are waiting for the second broadcasting rights agreement later this year with BCB and when it happens, they will go onto making a sports channel. There are also interest from other broadcasting corporations to start a sports channel but getting rights to other games and tournaments is a challenge which is why Neo Sports went off the chart. But Bangladesh is an ideal country to have one or more sports channel if they can manage it well and get rights.
Where commentary is concerned, sadly we still have to wait a while to get better commentators. Broadcasters want tried and tested commentators that are experienced. I think Mehrab Hossain jnr and Shahriar Nafees are most likely the next one to get into commentary but probably not at the moment because they still have playing years ahead of them. However, someone like Shahriar Nafees can do both because I highly rate him as a cricket expert and he has excellent communication and public speaking skills. So maybe he should consider getting into this. The problem in Bangladesh is, everyone limits themselves within social media. It is so difficult to find active writers, journalists, bloggers. There are many people that are capable of writing, capable of producing quality contents but they don't want to come out of Facebook and create something good.
BC:

Final thoughts from you on our cricket?
MI: The thing is our system has way too many commercial cricketers. You will see lots of players who can score 30-40 runs and pick 1-2 wickets. Its not that they can't do better but they seem to be satisfied by doing "just enough". I have seen players in the domestics that don't want to score 50s and 100s because they will be expected to repeat that performance! We need specialist cricketers who wont be satisfied by doing just enough to retain their slot. Also our cricket board badly needs some restructuring. In our cricket board, there is no border or barrier of authority. You have the board president who comes into the team meeting which I don't think all the players appreciate! Its good thing at times to have the board officials getting involved in team level because it seems like the board is connected and supportive of the teams operations. However, for the most part, it creates confusion, chaos and a lot of issues in the background. There has been some occasions where the board president over ruled a decision taken by the coaching staff or the selection panel or even the players. This has worked in favor at times but also had negative impacts in various levels. BCB needs to restructure the organizational structure because I think they have more directors then it needs!